VIP LUXURY YACHT SEA RAY LA CONSENTIDA
To make a reservation and get your Riviera Maya vacation rolling,
just choose the options you want in the table below and click
"Book It!"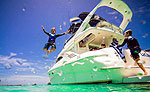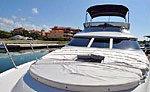 BOOK IT!

Date

Time

People

Trip Type

If you have selected "Full Luxury" as your Trip Type,
you don't need to choose any add-ons, they are all included.
But here you can add ala carte options off the Basic package.
Would you like Champagne or Transportation?
(Choose How Many Vehicles or Bottles)
Add Round-Trip Transportation
$150 Per 13 px. Van

(Select # of Vans)



Add Luxury SUV Transportation
$300 Per 7 px. SUV

(Select # of SUVs)



Add Champagne
$100 Per Bottle

(Choose How Many Bottles)

Optional Add-Ons - Choose Yours
(Check the Box Next to an Activity)


Onboard Chef & Food - $600.00

Premium Drinks - $400.00


Onboard Babysitter - $100.00

PLEASE TYPE IN THE BOX BELOW
Any instructions or special requests, such as special events, requirements, etc.


You will receive a voucher via e-mail within 24 hours (in most cases).
Just print it out and bring it with you to the Riviera Maya, just like an e-ticket.
A 30% deposit is required for this tour at the time of reservation.
Payments are processed via our secure server.

Safe and Secure.
Have a great time!