MAP OF ATV TOURS IN CANCUN IN THE RIVIERA MAYA

Check out our map of Cancun and Riviera Maya ATV Tours below. It will give you a good idea of where each ATV tour is located in relation to your hotel. We've included a scale to help you judge driving distances and driving times. There are no ATV tours in Cancun proper because it is fully developed - there is nowhere to ride. However, just a half-hour south lies the Riviera Maya, full of virgin beaches and awesome jungle trails - this is ATV country!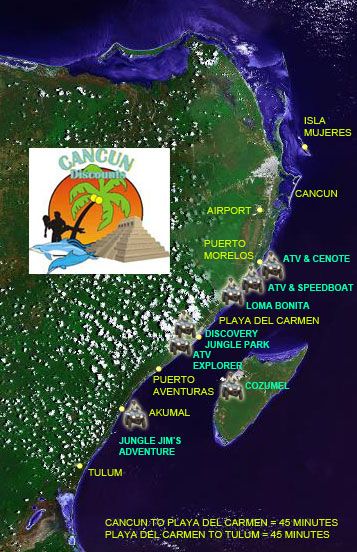 Our Cancun ATV Tours Map is copyrighted, and is not to be reproduced without express written permission of Cancun Discounts.
To read about the ATV Tours in Cancun, see prices and make reservations, just click here to see all of our ATV tours from Cancun, Cozumel and Riviera Maya.
---
Use the navigation bar at left to browse our massive selection of other Cancun Tours and Activities.
---