CONTACT US
At Cancun Discounts, your satisfaction is important to us. We're happy to answer any questions you may have about our tours or services.
Questions about any of our services?
CALL US TOLL-FREE

CALL TOLL-FREE FROM THE U.S. OR CANADA
1-877-446-8971
(Don't worry, we answer the phones in English!)
IF YOU ARE ALREADY IN MEXICO
CALL US TOLL-FREE
800-681-8214
(This number will only work if you are in Mexico)
FROM CANCUN AND EVERYWHERE ELSE
+52 (998) 287-3038


LIVE CHAT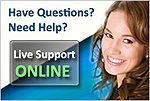 Live Chat Hours:
Mon-Fri: 8:00 AM to 7:00 PM (EST)
Sat-Sun: 8:00 AM to 5:00 PM (EST)

CONNECT WITH US
Contact us through our friendly Social Media Platforms; you'll be amazed at our Fast Response Times!
E-MAIL US
You can email us 24 hours a day.
We check our emails throughout the day.
You'll be pleased with our response times!
We strive to answer all e-mails the same day. If we're not available on the Live Chat or phone during normal business hours, we're probably just assisting another customer. If you leave a message on the chat line or phone, we'll get back to you quickly. You'll appreciate the responsiveness of our customer support.
Cancun Discounts
Av. Tulum No. 200, Local No. 101 Sm. 4, Suite 131
77500 Cancun, QROO, Mexico
+52 (998) 287-3038
---
Use the navigation bar at left to browse our massive selection of Cancun Tours and Activities.
---

Can't Find What
You're Looking For?