HORSE RANCH FACILITIES MAP OF CANCUN


We've set up this handy horseback riding map of the various ranchos in Cancun, Cozumel, and the Riviera Maya, to help you figure out which facility you'd like to go horseback riding at. There is no horseback riding in Cancun's hotel zone, because it is totally developed - nowhere to ride. All the tours will take you down to the Riviera Maya where you will find paradise. We've included a scale too, to help give you an idea of driving distances and to see which ride is closest to your hotel in Cancun or the Riviera Maya.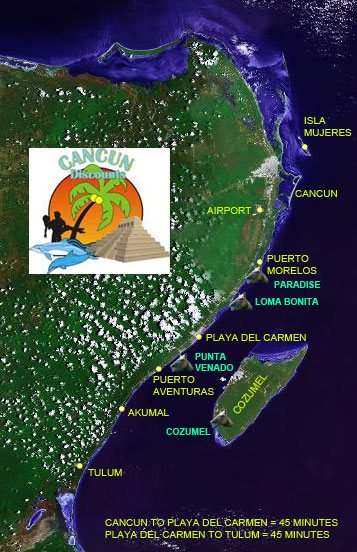 Our Cancun Horseback Riding Map is copyrighted, and is not to be reproduced without express written permission of Cancun Discounts.
Combo tours: The Zip Line Combo and Jet Ski combos take place at Paradise, while the Snorkeling combo takes place at Punta Venado.
To read about the horseback riding tours in Cancun, Cozumel and the Riviera Maya, click here to see all our discount horseback riding tours.
---
Use the navigation bar at left to browse our massive selection of other Cancun Tours and Activities.
---