BIODEGRADABLE SUNSCREEN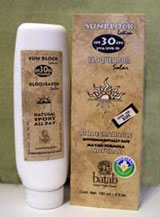 XEL-HA APPROVED!
5 oz. - $12.00
ECOLOGICAL BIODEGRADABLE SUNBLOCK


Required for Xel Ha and other protected areas in Cancun.

Ecologically friendly.

Less Expensive than at Xel Ha.

Coral Reef and Dolphin Friendly.

No Shipping Costs - Hand Delivered.

Made by Local Mayans - not Corporations.

Support the Local Village Economy.

Waterproof

Safe for Kids

Approved for use at Xel-Ha Park, Xcaret, Cenotes, and for all snorkeling trips in the ocean and on the coral reefs of Cancun.

Staying in the Riviera Maya? Click Here.
If you're visiting Cancun, you'll find out that many of the area's protected marine parks and dolphin facilities REQUIRE the use of biodegradable sunscreen. If you show up to Xel-Ha with your bottle of Coppertone, it will be confiscated at the gate, and you will be required to buy theirs at a premium price or risk being burned to a crisp during your day of relaxation in the warm tropical sun.
We now offer the very same ecologically friendly, biodegradable suntan lotion used by parks like Xel-Ha for a greatly discounted price. We'll even deliver it to you at your hotel when you arrive in Cancun, so you don't have to worry about shipping costs! We can only deliver to Cancun hotels, though, so if you're staying in other areas outside of Cancun, click here. Alternatively, if you are booking a private tour through us, we can give it to your driver to give to you when you arrive, no matter what area you are staying in.