MAP OF DOLPHIN SWIMMING FACILITIES, RIVIERA MAYA, CANCUN

See our useful map below, where we show you where all the dolphin swim facilities in Cancun, Cozumel, and the Riviera Maya are located. You'll see that there are currently 4 facilities that are conveniently located to Cancun, and 4 others that are convenient to areas like Playa del Carmen, Cozumel, Puerto Aventuras, Akumal, and Tulum. We've also included a scale to give you some idea of driving distances and driving times between your hotel and the swim.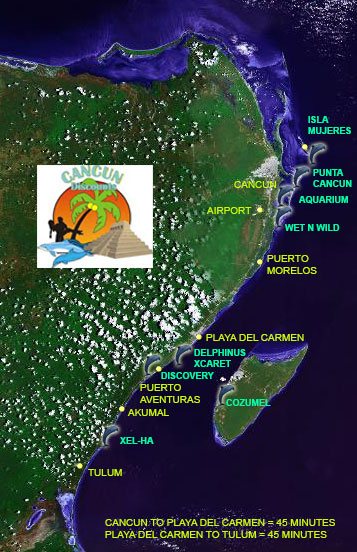 Our Cancun Dolphin Swim Map is copyrighted, and is not to be reproduced without express written permission of Cancun Discounts.
To read about the dolphin swims in Cancun, use the links below, or click here to see all dolphin swims in Cancun and the Riviera Maya.
---
Use the navigation bar at left to browse our massive selection of other Cancun Tours and Activities.
---