ISLA MUJERES FERRY SCHEDULES AND INFORMATION


ISLA MUJERES FERRY - TO AND FROM CANCUN
There are three ferries that run between Cancun and Isla Mujeres. There are two passenger ferries and one car ferry. All three terminals are located within 5 minutes of each other.

Another popular way to visit Isla Mujeres from Cancun is on a day tour on a catamaran or yacht. Click the image at right to see some of these options.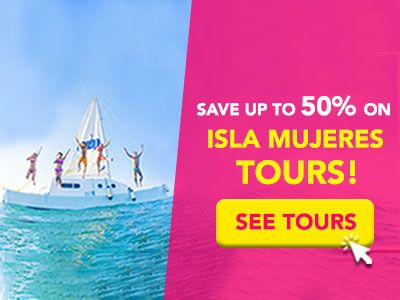 | | |
| --- | --- |
| SCHEDULE CHANGES due to COVID-19 | SEE HERE |
Gran Puerto Cancun
The first ferry terminal you'll reach as you drive from the Cancun hotel zone is also the newest - Gran Puerto Cancun. The Ultramar ferry that runs out of this port is very new, air-conditioned and comfortable. The ride over takes about 15 minutes.
Puerto Juarez
Less than a half-mile further north you'll find the Puerto Juarez terminal. This is where the Magana departs from. Also a high-speed ferry, the Magana is the same price as Ultramar and also takes about 15 minutes.
Punta Sam
About five minutes north of Puerto Juarez, you'll find Punta Sam, where the only car ferry to Isla Mujeres runs from. The vehicle ferry offers a slower, smoother ride than the other two, taking about 45 minutes to make the crossing.
Cancun Hotel Zone
You can now take the new Ultramar ferry to Isla Mujeres without having to leave the hotel zone. Ultramar is running out of two locations daily - Playa Tortugas at Km 7, and Playa Caracol at Km 9.5. These options are a bit longer, run less frequently and cost more than Puerto Juarez or Gran Puerto, but for people staying in the hotel zone and not doing an Isla Mujeres tour, adds a convenient option.

HOW TO GET TO THE FERRY TERMINALS FROM CANCUN
From the Cancun airport, the easiest way is to take a pre-reserved airport shuttle from the airport. Just choose the Puerto Juarez option when booking. On your return trip, the shuttle will pick you up from the ferry terminal and take you back to the airport. There are both shared shuttles and private transfers you can take.
If you're staying in Cancun, and just want to visit for the day, you can take the bus to and from the terminal - look for route 8 - or take a taxi from the hotel zone.
ISLA MUJERES FERRY SCHEDULES

(Subject to Change without Notice - Check First)

Ultramar - Gran Puerto Cancun

FROM PUERTO JUAREZ (CANCUN):
At 5:30 AM, and every half-hour from 6:30 AM to 4:00 PM, then ferries at 5:00 PM, 5:30 PM, and every hour from 6:00 PM to 11:00 PM.




FROM ISLA MUJERES:
At 6:00AM, and every half-hour from 7:00AM to 9:00PM, then ferries at 10:00 PM, 11:00 PM and 12:00 AM.





Ultramar Isla Mujeres Ferry

Isla Mujeres Excursion

IMPORTANT:

for your flight from Cancun, we suggest you choose no flight departure times prior to 9:00 AM as this would allow scarcely around 2-Hours pre-flight time at the airport.


Ultramar - Playa Tortugas Pier (Km 7, Zona Hotelera)
FROM PLAYA TORTUGA (CANCUN)
9:00 AM - 10:00 AM - 11:00 AM - 12:00 PM - 1:00 PM - 2:00 PM - 3:30 PM -
5:00 PM - 5:45 PM
FROM ISLA MUJERES
10:30 AM - 11:30 AM - 12:30 PM - 1:30 PM - 2:45 PM - 4:30 PM - 5:00 PM - 6:00 PM - 7:00 PM
Ultramar - Playa Caracol Pier (Km 9.5, Zona Hotelera)
FROM PLAYA CARACOL (CANCUN)
9:15 AM - 10:30 AM - 11:45 AM - 1:15 PM - 2:15 PM - 3:15 PM - 5:15 PM - 5:30 PM
FROM ISLA MUJERES
9:45 AM - 11:15 AM - 12:30 PM - 1:30 PM - 2:45 PM - 4:30 PM - 5:00 PM
Other Ways to Get to Isla Mujeres

Many people also visit Isla Mujeres via one of our Isla Mujeres Tours such as Swimming with Dolphins, Catamaran Sailing, or Royal Garrafon.
ISLA MUJERES FERRY PRICES - See Current Exchange Rates
Puerto Juarez/Gran Puerto Ferries - $231 Pesos (one-way) - roughly $12 USD
Cancun Hotel Zone Ferries - $13 USD (one-way) or $26 USD (round-trip)
Car Ferry (Punta Sam) Prices
Passengers - $14 Pesos each way
Bicycles - $58 Pesos each way
Motorcycles - $71 Pesos each way
Family Cars - $185 Pesos each way
Vans - $225 Pesos each way
Trucks - $275 Pesos each way
ISLA MUJERES FERRY PHONE NUMBERS AND CONTACT INFORMATION
Ultramar
From the U.S. and Canada: 011-52-998-843-2011
From Isla Mujeres: 843-2011
From the Mainland including Cancun: 998-843-2011
e-mail: [email protected] Visit their Website
ISLA MUJERES FERRY MAPS
---
Use the navigation bar at left to browse our massive selection of Cancun Tours & Excursions.
---