MEXICAN HIGHLIGHTS TOUR

FOOTLOOSE MEXICAN HIGHLIGHTS TOUR

THIS TOUR IS NO LONGER AVAILABLE - SEE OUR DAY TOURS
10 DAY SMALL GROUP ADVENTURE FOR ADULTS OF ALL AGES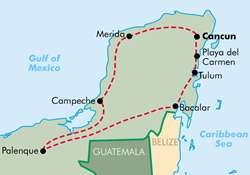 Virtually untouched since the Mayan civilization mysteriously disappeared centuries ago, the Yucatan Peninsula offers unsurpassed beauty, history and adventure. Come explore its natural and ancient treasures on this ten-day lodging tour.

This journey of adventure and discovery begins with a visit to Chichen Itza, one of the most excavated and best preserved of all archaeological sites in Mexico. Climb El Castillo pyramid and gaze beyond the largest ball court in Meso-America for a fantastic glimpse into the Mayan past.

Move on to the beautiful city of Merida, the capital of the Yucatan. From our centrally located hotel, spend the day in the many shops, museums and zocalos of this charming city, home to the descendants of the Mayan civilization whose culture is now laced with Spanish influence.

Travel next to the ruins of Uxmal where intricately carved temple facades pay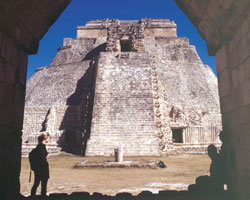 homage to Chac, the Mayan rain god.
Drive on to the part city of Campeche, the only walled city in the New World., where, from our hotel deep in the heart of the city, we can explore the remnants of its colourful past.

Continue down the ancient Mayan trade route to the ruins of Palenque, lost in the jungle for hundreds of years. Marvel at the magnificent pyramid known as the Temple of the Inscriptions and take a guided jungle tour to learn about this unique ecosystem and its plant and animal life. After such an adventurous day, relax and cool off in the inviting waters of Misol Ha waterfall.

Cross the Yucatan peninsula for a night in the Caribbean port city of Chetumal. Take a refreshing swim in the Cenote Azul before heading up the coast to the ruins of Tulum, the only Mayan city built along the sea. Discover Xel-Ha marine Park where you can snorkel in the protected lagoon and explore underground caverns. Enjoy personal time relaxing on miles of unspoilt beaches or take a scuba lesson to get a closer look at this underwater paradise.
Spend your final nights enjoying Caribbean nightlife in Playa del Carmen, before ending this magical trip in Cancun.

Flexible itinerary:



Days
1/2. Merida
3. Campeche
4/5. Palenque
6. Bacalar
7. Tulum
8/9. Playa del Carmen
10. Cancun

Note: This tour may operate in either direction.
INCLUDED IN PRICE

- Tour Guide
- Entry Fees
- Accommodation
- Transportation by adventure vehicle
- Services of a Footloose tour leader
- All nine pre-paid hotel/motel nights
- Guided jungle walking tour
- Admission to all parks and archaeological sites en route.
NO-RISK WEATHER POLICY - If the weather is bad and the tour cannot go out for any reason, you will receive a 100% refund. No risk, no worries!
EXCLUSIVE ONLINE PRICE!
Fast & Secure Booking!
World-Class Customer Service!
Great Cancellation Policies!






Payment Methods

Secure Shopping

See more Tour Packages
---
Click on the links at left to explore our large selection of other Cancun Tours and Activities.
---
Recommended By: