RUTA DE MAYA TOUR
Add this page to your Favorites!

RUTA DE MAYA TOUR

THIS TOUR IS NO LONGER AVAILABLE - SEE OUR DAY TOURS
16 DAY SMALL GROUP ADVENTURE FOR 18 - 38 YEAR OLDS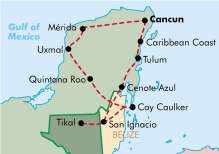 High adventure awaits on the path of the Ruta de Maya - explore lost cities, sub-tropical rain forests, and pristine Caribbean beaches in three different countries.

The journey begins with visits to major centres of ancient Mayan culture, Chichen Itza and Uxmal, as well as experiencing the modern-day Mayan descendants in the capital of the Yucatan, Merida. Leaving Mexico behind, travel into Belize - a diverse country where English, Spanish and Afro-Caribbean people have melted together, forming a truly unique culture. Boat to the idyllic tropical island of Cay Caulker and explore the diverse wildlife, both above and below the water.

Next, to Guatemala and visit Tikal, a "World Heritage Site" and arguably the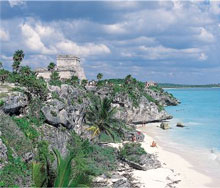 most spectacular ruins in the Mayan world. Its pyramids reach for the skies, high above the forest cover, giving a bird's eye view of its magnificent jungle surroundings along with many courtyards and altars that adorn this fascinating cultural centre.

Returning to Belize, camp at San Ignacio and canoe down the Macal River through spectacular jungle scenery. Finally, back to Mexico for a refreshing swim in Cenote Azul, before settling into our camp on the Caribbean coast. Swim, snorkel and scuba dive the turquoise waters and coral reefs of this tropical paradise or watch the world go by from a hammock under palm trees at the edge of a white sandy beach, before returning to Cancun and the end of this Mayan adventure.
.
Flexible itinerary:



Days
1. Cancun - Merida (hotel paid locally)
2. Uxmal
3. Quintana Roo
4-6. Cay Caulker, Belize (hotel included)
7/8. Tikal, Guatemala (hotel included)
9-11. San Ignacio, Belize
12. Cenote Azul
13. Tulum
14/15. Caribbean Coast
16. Cancun

Note: This tour may operate in either direction.
INCLUDED IN PRICE

- Tour Guide
- Entry Fees
- Accommodation
- Transportation by adventure vehicle
- Services of a TrekAmerica tour leader
- All camping fees & equipment
- Jungle canoe trip
- Cave Tour
- Two hotel nights in Tikal
- Guided tour of Tikal
- Cay Caulker Hotels
- Snorkelling tour
- Boat trip to pristine coral reef island with three night stay
- Admission to all the Parks & Archeological Sites as per the "Flexible Night Stops.
To make a reservation: Click "Book Now" at the top of the page. You will receive a voucher via e-mail within 24 hours (in most cases) that you will print out and bring with you to Cancun.
See more Tour Packages

---
Click on the links at left to explore our large selection of other Cancun Tours and Activities.
---

Can't Find What You're Looking For?