WHALE SHARK ADVENTURE PLAYA


WHALE SHARK ADVENTURE

FROM PLAYA DEL CARMEN - SEE FROM CANCUN AND RIVIERA MAYA
ADULTS & KIDS: $258.00 $172.00 - YOU SAVE 35% !
Get ready for the adventure of your life! There is nowhere else on earth that you can have this amazing experience - snorkeling with whale sharks! The whale shark is the largest fish in the world. It doesn't have teeth, and doesn't eat people, it eats plankton.

Every summer, the plankton bloom enters the waters around Contoy, and hundreds of this rare fish fill the waters, feasting on their favorite food. We'll be right there with them, and you can swim or snorkel with them in the wild - no captivity, just interacting with nature in it's natural environment. A truly amazing tour!
Check out this photo below taken by Shark Diver magazine. Can you imagine?!?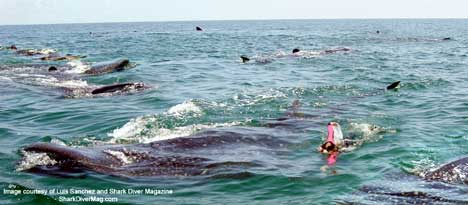 Whale sharks can grow up to 40 feet (12.5 meters) long and weigh up to 20 tons. It seems incredible that you can swim this close to so many of them in one place...scuba divers delight if they ever see even one in a lifetime!
On this tour, we'll board a powerful 10-passenger boat in Cancun and head out to the whale sharks. If the weather and visibility cooperate, you'll be able to see and swim with whale sharks, a life altering experience.
Cruise Passengers: This tour is not compatible with most cruise schedules.
Tour Schedule: Daily at 7:00 AM. Exact pick-up time will depend on the location of your hotel, an estimated time will be included in your confirmation. This tour is seasonal and runs from June 1st to September 15th only.
Departure: From your hotel or meeting point in Playa del Carmen and back.
Duration: 6.5 Hours Approximately.
Included:
Air-conditioned Round-Trip Ground Transportation

Boat Tour to Snorkel with Whale Sharks

Safety and Introductory Briefing

Light breakfast

Snorkeling Equipment

English Speaking Tour Guides

Lunch

Bottled water and soft drinks

Beer (once you have snorkeled with the whale shark)
Bring:
$15.00 Per Person in cash for Docking fee
Kids: Ages 5 and up. Kids same price as adults.
Note: The whale sharks can be seen from up close, but not touched. All trips are reconfirmed a day in advance to assure good weather for viewing the whale sharks. Please travel as light as possible as there is limited room in the boat. Sighting of whale sharks is not guaranteed in May and September.
IMPORTANT: Only Biodegradable, eco-friendly sunscreen may be used while swimming with the whale sharks. Read more about Biodegradable Sunscreen.
EXCLUSIVE ONLINE PRICE!
Fast & Secure Booking!
World-Class Customer Service!
Great Cancellation Policies!


Payment Methods

Secure Shopping

See all Playa del Carmen Adventure Tours
---
Click on the links at left to further explore our large selection of Playa del Carmen Tours and Activities.
---
Recommended By: